Upcoming changes
Greetings, guys.
Here's a portion of fresh news.
First of all, we're pleased to announce the upcoming update to DaisyDisk, version 2.0.7.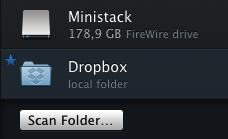 The first feature you'll likely notice is favorite folders. Mark a folder as favorite and it will remain pinned to your list of sources forever. Not a big deal for occasional scans, but a real time saver for control freaks.
Scanning multiple volumes is now faster than ever thanks to the recent engine changes: DaisyDisk successively scans multiple volumes of the same hard drive, so the hardware load gets reduced and scan speed increases. This thing works automatically, you don't even need to be aware of it.
The third interesting feature is related to the stand-alone version of DaisyDisk. Now, after the scan is complete, the application tells you if there're significant amounts of disk space hidden in restricted folders i.e. taken by files and folders you are not normally allowed to access.
And finally, we've made a few tweaks and optimizations to DaisyDisk's engine, so it handles folders with huge (no, huge) numbers of files without any hickups.
We hope to roll out this version in a week or two once we finish polishing all the stuff.
What's next? There're a few interesting things we have in a pipeline: I don't want to reveal all the details right now, but we'll keep you informed :)
One more thing. Starting from today we'll try a more aggressive and flexible price model, so you should be able to get a premium quality product with a significant discount. We're also considering separating Mac App Store and stand-alone versions of DaisyDisk by making certain (advanced) features only available in a stand-alone edition.
Stay tuned.