Find it.
Clean it.
Find out what's taking up your disk space and recover it in the most efficient and easy way.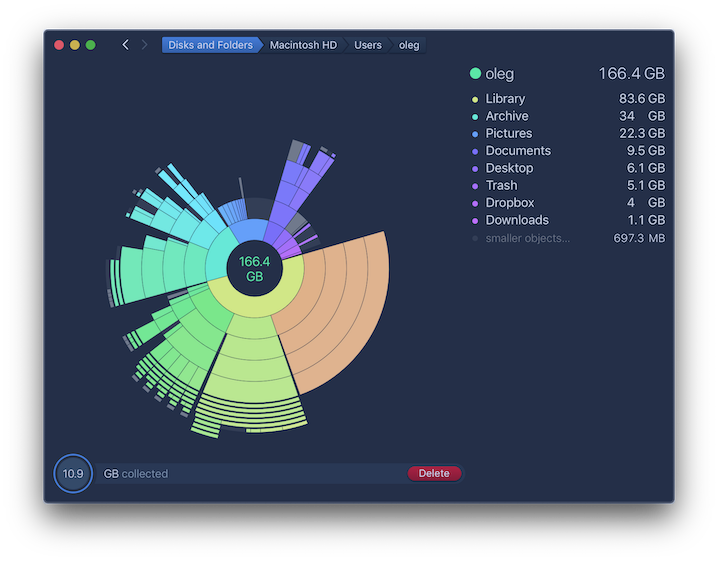 Beautiful
design.


Fun

experience.
So you think disk cleanup is a chore? Think again. The minimalist design and thought-out interactions of DaisyDisk turn it into an easy and fun experience.
Learn More
Around the world.
Apple's App Store has honored DaisyDisk with the "Editors' Choice" badge and periodically features the app in various editorial articles and app collections. DaisyDisk is a three times winner of the "Best of the Year" App Store award. Over 26,200 Apple and Pixar employees use DaisyDisk.
It happens to everyone sooner or later: after a few years of accumulating photos, videos, music, and other random documents, you start to get the dreaded notifications that you're running out of room on your hard drive. DaisyDisk is meant to help — it scans your computer and shows you just how much storage you're using, broken down by files and folders in neat, colorful rings that make it simple to dial down to the junk that's taking up all your space and clear out your computer.
[…] DaisyDisk is my personal favorite for analyzing disk usage on the Mac. It's a beautiful app. […]
DaisyDisk is still my favorite disk management tool for macOS.
[…] we recommend an easy-to-use utility called DaisyDisk. This app helps you easily find and remove unneeded files you may have forgotten about.
DaisyDisk is a beautiful disk space analyzer. It's the preference of many Mac users. […] DaisyDisk is very fast and very pretty.
Deleting files and sorting out disk-space is one of those tasks most people dread, so I can definitely appreciate that DaisyDisk has tried making it as fun (and beautiful) as possible.
The new DaisyDisk 4 has a new, flatter design […], with bright colors, it's able to scan drives up to 20 times as fast, and it consumes less memory when in use.
DaisyDisk, chosen by Apple as a Mac App Store *'essential'*, provides a cleaner and more interactive circular interface for [visualizing Mac's hard drive].
For only ten bucks, DaisyDisk is a simple, convenient utility for every Mac owner, and it gets the job done well for less technically-inclined users.
DaisyDisk is simply one of the best disk utilities for finding out how a hard drive's space is being used.
While there are a few similar apps none of them even come close to matching the beautiful DaisyDisk interface.
Blazing
fast.
Scan your disk in seconds, not minutes. No more waiting — get results almost immediately.
Learn More
All

of your disks.

Internal or external, SSD or HDD, USB or Thundebolt, local or network, physical or virtual, diverse file systems — you get them all. In addition, now you can connect cloud storage.
View all your connected disks and assess their capacity & free space in real time, even ahead of scanning.
Learn More
As
safe


as it can be.

Only you decide what to delete. System files are automatically safeguarded.
Learn how to easily identify what is safe to delete.
Learn More
Cleaning.
Done right.
Let's face it. So called cleaner apps are insanely popular on the Mac. The idea that the system needs periodic cleaning appeals to many people. In reality, macOS can clean itself very well, and Apple actually discourages the use of cleaner apps.
When your disk space is low, fix the real problem — find and delete the large files that you no longer need.
Cleaner app
Typically recovered:1—5 GB
Deleted:Caches and temp files
Size:Not necessarily large
Target:Predefined files
Durability:Cache files reappear soon
Risks:May damage the system
Automatic:One magic button
Recommended by Apple:No
Our users say.
DaisyDisk steadily tops the rankings of the most popular utilities in the App Store all over the world.
★★★★★
★★★★
★★★
★★
★
2335
132
22
45
142
★★★★★

musician952 —

Love it

300% worth the $10. Simple, effective and visually pleasing. Saves uber time.
★★★★★

BigDougAus —

great app

Since I upgraded to an internal SSD, space management is more important than it used to be. DaisyDisk is an invaluable utility, since it identifies where my disk space is allocated and helps me to manage it. Highly recommended.
★★★★★

jsullivan2112 —

Great program

I really like the program, it's very user friendly and has never really cause me any issues at all. I think it's a reasonable price, especially for people like me who can't be bothered to learn enough to manage more on my own. I'm very visual, and the program definitely suits that.
★★★★★

Amanditares —

Great App!

I've been using this app for years now and it is of great help administrating sotorage spaces which are dozens of terabytes of data.
★★★★★

afbrave —

One of the most useful apps

Easily one of the most useful apps I have ever used. I attribute the speed and long livecycle of my Mac to the monthly use of this app. Pro tip, if you scan your disk as "Administrator", DaisyDisk shows you hidden Snashots and Purgeable Space that can save your hard drive hundreds of gigabytes in the long run. Keeps my Mac running smooth!
★★★★★

frestepi —

This App Is A Must-Have

If you know what DaisyDisk is, then you know how amazing it is... But if you DON'T know what it is, then just know that it's worth getting 100%. DaistDisk allows you to EASILY see what files are taking up your disk space and WHERE they are located. I use it to locate large files, archive them if needed, then once youre done you can move it all to the "collector" and delete them, effectively freeing up more HD space. I am a creative and use my local disk for apps and current projects. But I only have 1 tb and it fills fast. Daisy Disk allows me to quickly browse all my folders based on their disk size and nuke what's not necessary. It has saved me SOOO much time when managing my hard drive storage. It sounds like a boring app, but trust me... it is a Must-Have app for everyone. I can't believe Apple hasn't bought them out and made it a default app on new Macs.
★★★★★

JF in Qc —

Best thing since the wheel!

I have been using DaisyDisk for years. I don't use it often but when I do, its always a pleasant experience and totally fits the bill. I highly recommend it, its a tool you always want to keep around.
★★★★★

UberMuffinPwning —

The Best Disk Cleaner Hands Down

I purchased this app years ago when decluttering an old personal MacBook and it has been a staple on any Mac device that I own. As a photographer, it is easy to lose track of how large some folders of images can get, so this helps me narrow down what is taking up the majority of my hard drive so I can get it offloaded onto a backup drive and keep working without worrying about running out of space. This app has paid for itself time and time again.
★★★★★

Capbri —

Fantastic

Super useful for finding disk space hogs and removing bulky files.
★★★★★

Akurokase —

Simple and effective

Gives a very detailed view of what's happening with all you storage space.
★★★★★

pleachchapel —

Ideal Little Tool

The sort of thing that macOS feels like it's missing! Essentially a prettier Disk Usage Analyzer from the Linux world, with a few extra pieces of handy functionality. I'm usually a terminal dweller, but this is a relaxing way to clear large old directories & files.
★★★★★

danielpetri1 —

How is this not a default Mac application?

Apple should buy this app
★★★★★

Kaisertod —

Intuitive and effective

I have used a TON of apps to try and reclaim drivespace, and DaisyDisk is by far the most intuitive and effective. I just reclaimed 496GB of space on my primary disk, and I thought it was being eaten up by sample libraries, where in fact it was being eatn up by old backups of huge projects. I never would have found them, they were nested so deeply, but DaisyDisk immediately led me to the problem and gave me a fast solution. Highly recommended.
★★★★★

TheNameIsPeter —

Rest assured you will free up space.

I can't think of any way to write a positive review for this without sounding at least somewhat like a bot or a shill. No matter what anyone tells you, it is not capable of clearing up most of your storage. That being said- it is most definitely able to clear up SOME. With my 256 GB Macbook Air, I had just a few gigs left and was desperately looking for a solution. I spent hours avoiding these 'analyzer' apps but my other research was to no avail. I scoured the internet, particularly on Reddit and other forum boards and concluded that this was the most reputable one. The $14 CAD was a complete gamble, but I was prepared to purchase a new laptop anyway so it was a marginally small cost. Perhaps it was because I entered with zero expectations that I was blown out of the park with the results. I managed to locate several cache folders amounting to over 60 GB of space. This is merely 25% of my entire disk storage, but for $14 CAD I consider that an absolute deal. People who claim it "tells you only what you know" are fools who can't infer which folders can be deleted and which can't. For example, my main issue was Telegram caches. My built-in software only indicated the memory space of the Telegram application itself, not its caches (which I have now removed, and as mentioned on Telegram's site, your data is still stored in the cloud). That concludes my review. Peace out
★★★★★

Sand_Witch —

Minimal, Effective, Overall Great!

Loving this app, for a multitude of reasons. I can't describe how great it is that this app is only 5MB. I've tried so many tidy apps that use hundreds of MB... like that doesn't defeat the purpose! Skimming through my local files with a visual indicator has already helped me save some space, and that's a must for me, since I'm a power user on a 250GB disk.
Pricing &

licensing
DaisyDisk license is a one-time purchase, and not a subscription! With a single affordable payment, you get a lifetime license, without any recurring payments. Minor updates are included.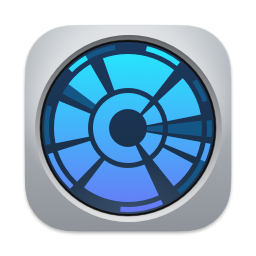 DaisyDisk
Lifetime License
Buy

$9.99
One-time purchase
No recurring payments
Lifetime license
Minor updates & bug fixes included
Use on up to 5 personal Macs
30-days money back guarantee
Secure payment via FastSpring
All payment methods
Instant activation
24/7 support
System RequirementsmacOS 10.13 or newer
M2, M1, Intel
Latest Version4.25
Apr 16, 2023
In addition, we offer corporate licenses, portable licenses for IT services, and educational discounts. For more detail, contact us.